Welcome to cajuncraftedaccordions.com, home of the REED Accordion. My name is Tim, call me anytime 630-370-9072 or send an e-mail to tim@reedaccordions.com .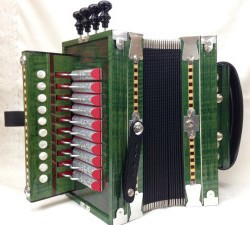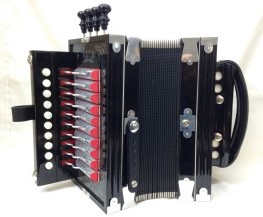 This website is dedicated to the preservation of the Cajun culture and heritage, especially that of the accordion. My goal is to always provide a quality instrument that is reasonably priced without cutting corners. I use only the best professional hand made Italian reeds available, Binci. The bellows are hand made by Galassi, also the best Italian quality available. I use only stainless steel axles and screws. The reed blocks I make with maple and most other parts are made in my shop as well. Very few accordion parts can be purchased but Greg Mouton of Crowley, Louisiana is a well known parts supplier and provides me with a few.
I use only a high quality automotive clearcoat finish. A wide variety of domestic and exotic woods are available as well as several choices of inlays for the decorative appearance of the exterior.
All REED Accordions have engraving on both end plates and may be filled with a contrasting color or a subtle tone. I add inlays on all of the bellows' frames, keyboards and button boards. It is important to me that your accordion looks the very best that it can. Great care is taken to be positive that quality and detail is never overlooked.